Fresh Pak offers plastic pallets for industrial, agricultural, food processing and beverage applications worldwide. Engineered of high-density polyethylene (HDPE) or polypropylene (PP), our pallets are strong yet lightweight, corrosion resistant and durable.
Because they are completely reusable and virtually maintenance-free, Fresh Pak pallets are more cost-effective and user-friendly than pallets manufactured from wood, metal and cardboard.
Download the PDF to learn more!
Plastic Pallets are used as a durable and reusable material handling shipping platform. They offer the rigidity that is required for durability, strength, and maintenance free.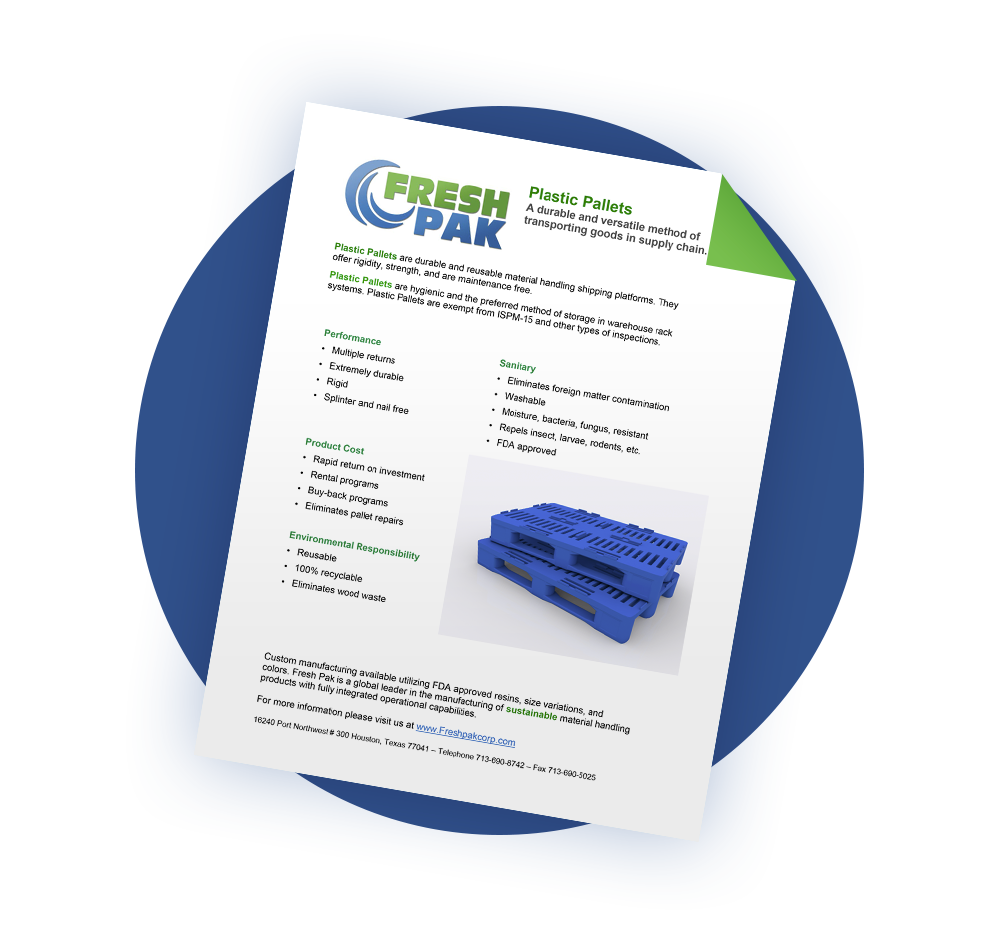 From heavy-duty pallets for industrial use, to FDA-approved pallets for food applications, to "one-way" pallets for export use, Fresh Pak products offer a unique level of performance, quality and cost-effective advantages unlike any other pallets.
Value-Added Features and Options
Guaranteed Buy-Back Program
Because our pallets are made of 100% recyclable material, we will buy back and recycle your non-serviceable pallets in truckload quantities. It's an environmentally friendly program that also lowers your initial purchase cost.
Branding and Hot Stamping
Customized identification options available
RFID Capability
Embedded chip helps locate and identify pallet contents
Logistics Support
Fresh Pak can help manage the pallets used in your deadhead shipments
Leasing/Finance Options
Convenient payment and leasing plans available
Consultation
Application surveys and technical advice are available upon request
Fire Resistant / Freezer / Cooler Additives Available
---
Samples Available